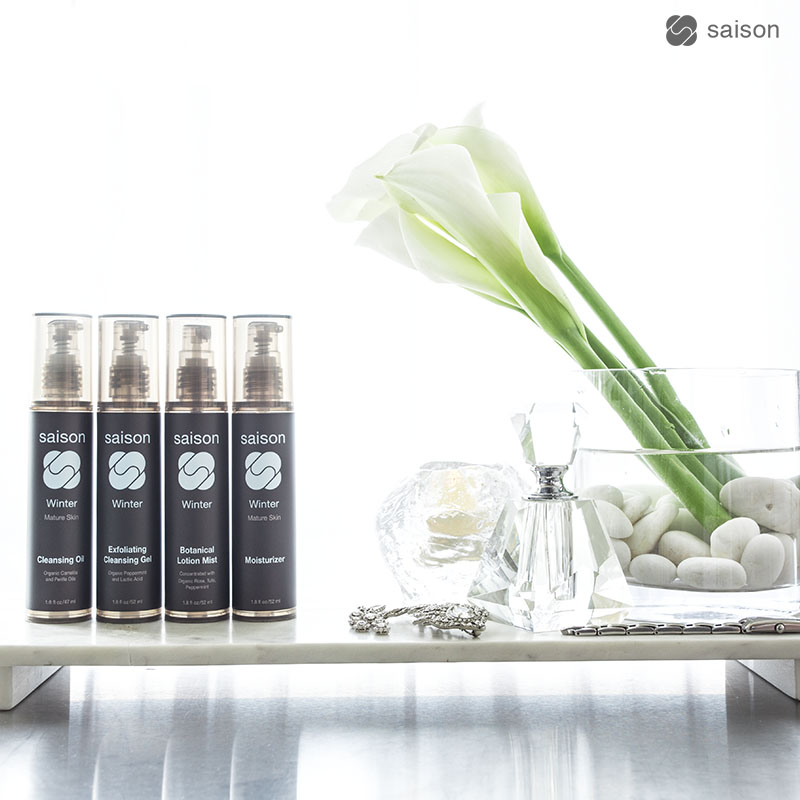 NEW WINTER SKINCARE ROUTINE
Record cold temperatures, rain storms, wind chills and blasting heaters can all wreak havoc on your skin. The Winter Collection is formulated to help your skin through these cold weather months and feature antioxidant-rich ingredients to nourish and treat it for a healthy, glowing look. And everything is certified Vegan and Cruelty Free
CLEANSE
This is the time to switch to a Cleansing Oil to not only remove all the dirt and makeup from your skin, but it provides extra emollients to help soften dry, chapped skin to help keep it nourished and moisturized. The WINTER CLEANSING OIL features ORGANIC CAMELLIA SEED OIL and ORGANIC PERILLA SEED OIL to help rejuvenate skin and improve elasticity. Take a few extra minutes to massage the oil into the skin to also help improve circulation and oxygen flow to your skin cells.
EXFOLIATE
As your skin tries to protect you from the harsh weather, you may notice that your skin may be more dull or chapped than usual. Using the WINTER EXFOLIATING CLEANSING GEL, featuring LACTIC ACID and ORGANIC PEPPERMINT and ORGANIC ALOE, it will help dissolve dirt, oil, and dry dull dead skin without burning the skin.
HYDRATE AND FIRM
Double down on hydrating and moisturizing your skin. Start with the WINTER BOTANICAL LOTION MIST to hydrate and prep your skin before applying the WINTER FIRMING MOISTURIZER. Featuring ORGANIC ALGAE, ORGANIC BAMBOO, ORGANIC ROSE and ORGANIC PERILLA, this formula will help improve skin texture and elasticity.
Start your new Winter Skincare Regimen today.
New Winter Skincare Routine | Saison Organic Skincare
---