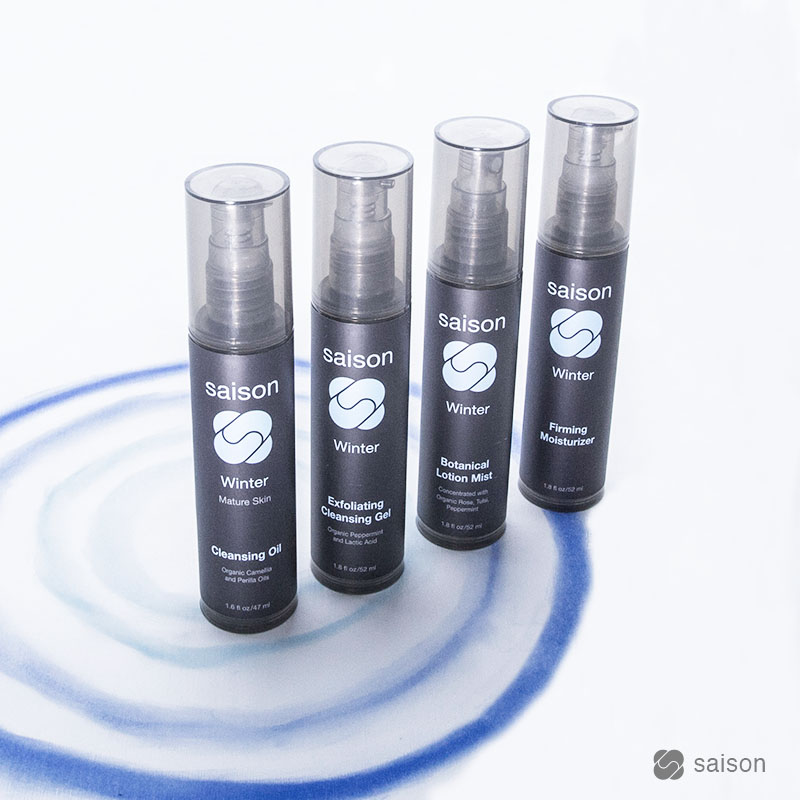 STEP BY STEP | HOW TO STREAMLINE KOREAN BEAUTY ROUTINES
While much has been said about the 10 or 12-step Korean Beauty Regimen, in some cases, less is more. Especially when skin your is sensitive or overreacting to the extreme weather conditions, It's a good time to take a step back and get back to the basics.
With Saison's seasonal beauty kits, we use highly-concentrated seasonal and organic formulas to help you streamline your routine, without sacrificing any benefits of the Korean regimen.
STEP 1 – OIL CLEANSE
This Cleansing Oil is made with Organic Camellia, Perilla, Jojoba and Safflower Oils to breakdown and remove makeup, and balance and soften your skin.
STEP 2 – DOUBLE CLEANSE AND EXFOLIATE
The Exfoliating Cleansing Gel is a 2-in-1 product that gently removes dirt and residual oil. And the Lactic Acid, gently dissolves any rough, dead skin cells on the surface of your face.
STEP 3 – HYDRATE AND TREAT
The Botanical Lotion Mist is packed with Organic Aloe Vera, Glycerine, Organic Rose, Organic Lavender, Organic Tulsi and Organic Peppermint to rehydrate, soften and rejuvenate your skin. And because it's liquid, it is much easier for your skin to absorb these active ingredients.
STEP 4 – TREAT AND MOISTURIZE
Also packed with the same ingredients as the Botanical Lotion Mist, this Firming Moisturizer also includes additional active ingredients like Organic Algae, Organic Bamboo, Organic Perilla to help plump up your skin cells and stimulate collagen production. This moisturizer should be applied while the skin is still slightly damp from the Mist to continue "feeding" the skin, lock in moisture and to create a protective layer on your skin during the cold winter months.
Streamline Korean Beauty Routine | Saison Organic Skincare
---