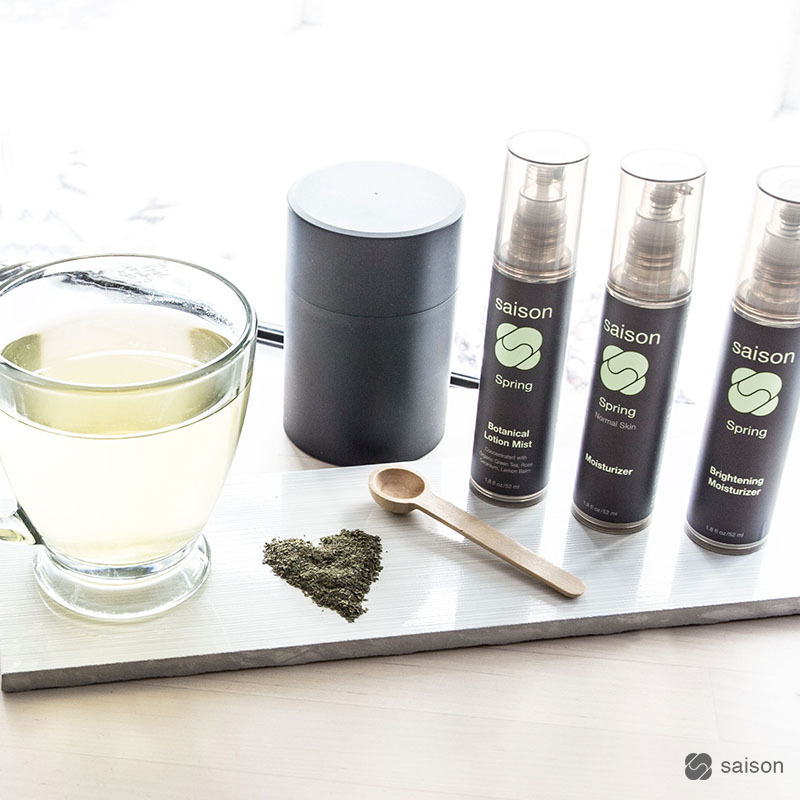 GREEN TEA ANTIOXIDANT RICH SKINCARE
Finding antioxidant-rich skincare products are essential to the health and appearance to your skin.
On any given day, your skin is constantly exposed to both outdoor and indoor pollutants and free-radicals that oxidize and degrade the cellular structure of your skin cells. As a result, you might notice some brown spots, sagging skin, dullness or an uneven complexion.
One of our favorite antioxidant ingredients is GREEN TEA. Not only do we love to drink it in the morning and the afternoon, but we love incorporating it in our products. Infused in all of our hydrating and moisturizing products, Green Tea helps protect skin from all those pollutants, and keeps it toned, bright and healthy.
SPRING BOTANICAL LOTION MIST

Keep hydrated and refreshed throughout the day. Packed with Organic Green Tea, Aloe Vera, Glycerine, Rose Geranium, Lemon Balm, Cucumber and Lavender, this Lotion Spray will keep you cool, keep your skin looking dewy and refreshed throughout the day.
SPRING MOISTURIZER

Featuring a concentrated blend of spring botanical extracts, like Organic Green Tea and Organic Apricot Kernel, this moisturizer helps enhance skin's function and appearance this time of year. L-Ascorbic Acid works actively to even skin tone and stimulate collagen production to mouth out skin naturally.
SPRING BRIGHTENING MOISTURIZER
Blended with Organic Green Tea, Licorice and Mulberry extracts this helps rejuvenate skin, calms redness and inflammation, and minimizes skin discoloration.
SHOP SPRING SKINCARE NOW
Green Tea Antioxidant Rich Skincare | Saison Organic Skincare
---