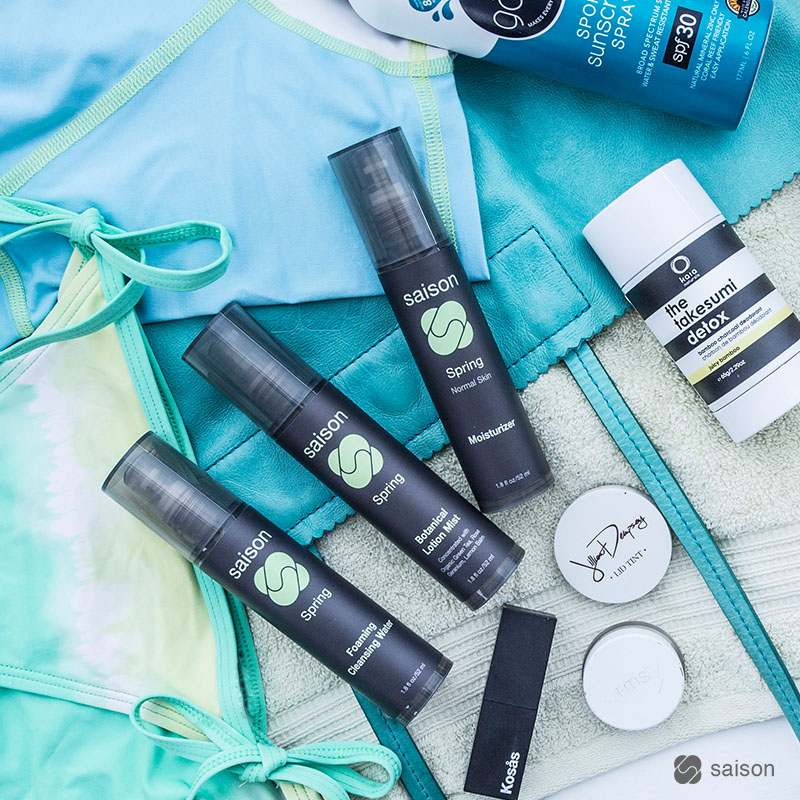 LONG WEEKEND SKINCARE ESSENTIALS | WHAT TO PACK
Starting to pack some of our getaway essentials – and keeping it easy peasy.
SAISON SPRING FOAMING CLEANSING WATER
This face cleanser appears like water, but it will begin to lather as you rub your hands together. This gentle cleanser removes dirt and oil, while toning and softening skin, and does not contain any SLS. Instead, this cleanser includes glycerin and organic cucumber to hydrate and tone skin, while it cleans it. Need a short-cut? This product also acts like Micellar Water – simply saturate a cotton pad and wipe your face clean.
SAISON SPRING BOTANICAL LOTION SPRAY
Keep hydrated and refreshed throughout the day. Packed with Organic Green Tea, Aloe Vera, Glycerine, Rose Geranium, Lemon Balm, Cucumber and Lavender, this Lotion Spray will keep you cool, keep your skin looking dewy and refreshed throughout the day.
SAISON SPRING MOISTURIZER
Featuring a concentrated blend of spring botanical extracts, like Organic Green Tea and Organic Apricot Kernel, this moisturizer helps enhance skin's function and appearance this time of year. L-Ascorbic Acid works actively to even skin tone and stimulate collagen production to mouth out skin naturally.
Some of our other favorites include:
Jillian Dempsey Lid Tint for a quick swipe of color on your eyes and cheeks
RMS Luminizer for pretty highlights and glow on your skin Kosas Lipstick – super moisturizing and for a pop of color The Takesumi Detox to keep fresh.
Long Weekend Skincare Essentials | What to Pack | Saison Organic Skincare
---